Entertainment
TIM BURTON AT LUCCA COMICS & GAMES 2022 FOR THE EUROPEAN PREMIERE OF WEDNESDAY
8.000 fans waiting for the director

Tim Burton at LC&G2022 Press Conference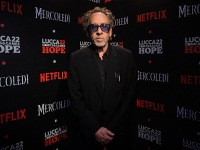 USPA NEWS - Lucca, October 31st 2022 - Guest of excellence oof Lucca Comics & Games 2022 was one of the most iconic figures of cinema of our time: The visionary director Tim Burton, creator of worlds and characters that have become part of the collective imagination, including Beetlejuice, Batman, Edward Scissorhands, Nightmare before Christmas, Ed Wood, Sleepy Hollow, Big Fish, Corpse Bride, Sweeney Todd, Charlie and the Chocolate Factory, Frankenweenie.
In collaboration with Netflix, Tim Burton participated in Lucca Comics & Games 2022 on the occasion of the European preview of the 1st episode of Wednesday, the highly anticipated TV series directed by the famous director who traces the years of Wednesday Addams as a student at the Nevermore Academy. Wednesday is coming to Netflix on November 23rd.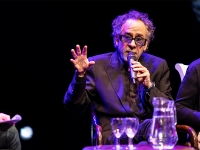 During the day, Tim Burton met the Italian and international press for a conference at the Teatro del Giglio in Lucca, a prestigious location where he answered questions from journalists and the Director of Lucca Comics and Games Emanuele Vietina.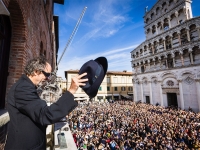 After the press conference at the prestigious Teatro del Giglio in Lucca (also available on YouTube, check the link below), Tim Burton greeted the public in Piazza San Michele, where more than 8,000 fans and Wednesday cosplayers (honored by wearing the wig with its iconic and unmistakable braids) and the complete Addams Family.
In the evening Tim Burton met an audience of 500 fans at the Cinema Moderno for the European preview of the 1st episode on Wednesday.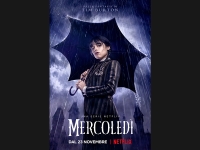 Wednesday, an 8-episode TV series, is a mystery with investigative and supernatural tones that traces the years of Wednesday Addams as a student at Nevermore Academy, describing the attempts to control her paranormal powers, to foil a monstrous series of murders that terrorize the community and solving the mystery involving her parents 25 years ago ... all while exploring new and complicated relationships at Nevermore.
In the lead role Wednesday Addams will be Jenna Ortega, flanked by Gwendoline Christie (principal Larissa Weems), Jamie McShane (Sheriff Galpin), Percy Hynes White (Xavier Thorpe), Hunter Doohan (Tyler Galpin), Emma Myers (Enid Sinclair), Joy Sunday (Bianca Barclay), Naomi J Ogawa (Yoko Tanaka), Moosa Mostafa (Eugene Ottinger), Georgie Farmer (Ajax Petropolus), Riki Lindhome (Dr. Valerie Kinbott) and Christina Ricci (Marilyn Thornhill).
The other famous members of the Addams family will instead be Catherine Zeta-Jones (Morticia Addams), Luis Guzmán (Gomez Addams), Isaac Ordonez (Pugsley Addams) and Fred Armisen (Uncle Fester).
more information: http://youtu.be/bA_6id4VmkM
Keywords: Tv Series, Tim Burton
Liability for this article lies with the author, who also holds the copyright. Editorial content from USPA may be quoted on other websites as long as the quote comprises no more than 5% of the entire text, is marked as such and the source is named (via hyperlink).
| | |
| --- | --- |
| | RAHMA-SOPHIA RACHDI |
| | Daren Frankish |
| | Ruby BIRD |
| | Aurangzeb Akbar |
| | Yasmina BEDDOU |